Precise method producing functional coatings for lifetime and functionality enhancement of mechanical parts. According to requirements is possible to produce coatings with the metalurgical bonding to the base material with resistance against wear, oxidation, corrosion and for applications at elevated temperatures (up to 1000 °C). Method is suitable for manufacture, renewal and repairing of shafts, flanges, pivots, broaching tools, turbine blades and functional surfaces of moulds and tools.
Principle
The metal powder or wire is fed to a laser beam, where this material is melted together with the base material of the part and a deposition layer is formed on the surface of the part. A metallurgical bond is formed between the deposition layer and the base material, guaranteeing excellent adhesion between the cladding layer and the part.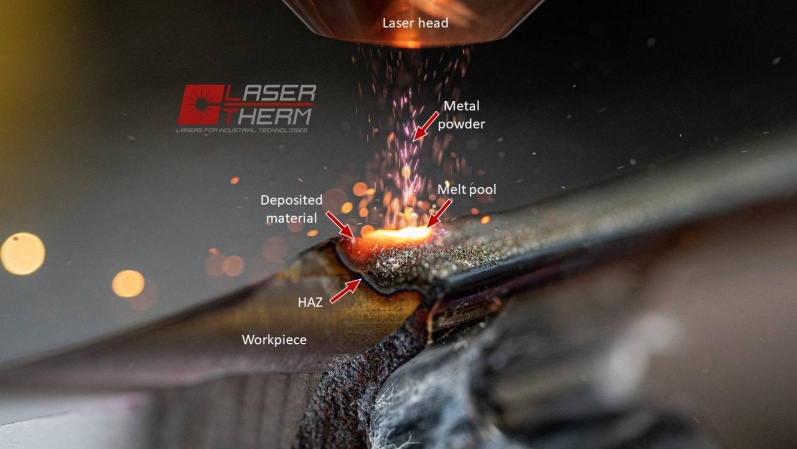 TOP 5
High surface layer hardness and abrasion resistance, high temperature stability and corrosion resistance
Excellent adhesion and cohesion of the coating without porosity
Low thermal influence of the base material
High efficiency and reproducibility
Possibility of cladding in any thickness and 3D shapes, large selection of additional materials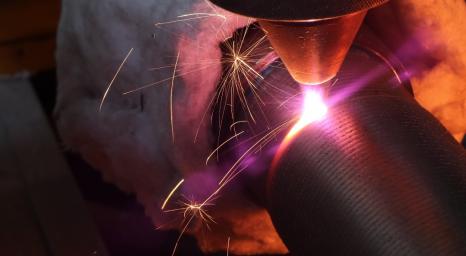 Additional materials
Stainless steels (AISI 3xx and 4xx)
Structural steels (42CrMo4)
Tool steels (M2, M35, H13, H100)
Cobalt alloys (Stellit, CoNiCrAl, Tribaloy)
Nickel alloys (NiCrSiB, Nimonic, Inconel, Hastelloy)
Bronze alloys
Cermets (WC-Co, WC-Co-Cr, CrC-NiCr)
Applications
Laser cladding applications are used to tool cutting edges, steam and gas turbine components, pulleys, ropes, rollers, drive wheels, shafts, winding drums and other moving parts, tool parts and pins.