Take the advantage of 21st century technology and take your opportunities further.
LaserTherm custom services centre is one of the most comprehensive workplace of processing services in Central Europe. We can offer an effective way to meet your needs thanks machinery, science facilities and a constantly expanding information library. Over 1000 m² is fitted with robotic technology and CNC machines with a 20-ton portal for handling excessive loads. Larger or heavier products can be solved under prior consultation. We currently have a laser power exceeding 40 kW.
Laser hardening
Laser hardening of the gliding bar
Laser hardening of bearing cages including gearwheels
Hardening of the mould cutting edge
LaserTherm has been pursued to laser hardening since 2011. Over time, the varied requirements of our customers have created the most flexible hardening center in Central Europe. Robotic workplaces are equipped with five types of power lasers and a set of hardening laser heads with different properties. There are several ways to achieve the required hardening. With the background and years of experience, we are able to design the best one.
Laser cladding
Laser cladding of the mould cutting edges
Cladding of the spherical parts
Cladding of the cylindrical parts
Since the beginning, LaserTherm has also been pursued to laser cladding of construction steel, sintered carbide, and other metal compound. Combination of a FANUC robot, linear and rotary positioners, cladding heads LaserTherm and Laserline laser source are used for the efficient application of cladding. We are able to effectively use our rich experience with laser cladding of sintered carbides in other assignment.
Laser welding
Laser welding of a pressure chamber
Laser welding of tubes
Laser welding of the engine sideboards without deformation
Laser welding of metal is a very broad task for which we have several solutions. The required output determines the method by which we will weld the parts. Certain assignments can only be welded with a laser scanning head; other assignments can only be welded with a processing head with a corresponding laser assembly. According to the requirements, we are able to influence the optical system, laser source and welding head. We have many years of experience with laser welding of aluminium, copper, and stainless-steel materials.
Custom laser welding is also used as a temporary cooperation with the customer before the delivery of the laser welding system will be realized by the system division.
The range of material thicknesses that we are able to laser weld is from 0,1 mm to approx. 13 mm.
CNC machining
We offer manufacturing services in the field of high-end CNC technologies - More info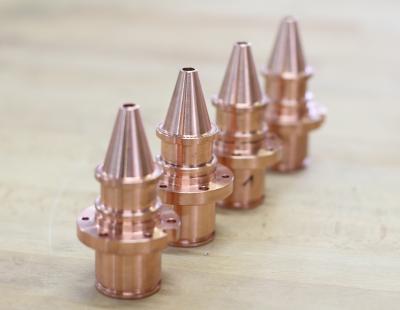 Welding MIG/MAG and TIG
manual welding, robotic welding
welding steel, stainless steel, aluminium
possibility of complex production including varnishing (sister company JANTAR Plzeň)
design and manufacture of welding fixtures
Do you have questions or want to send an inquiry?
Contact us!